Practical tourist information for the United States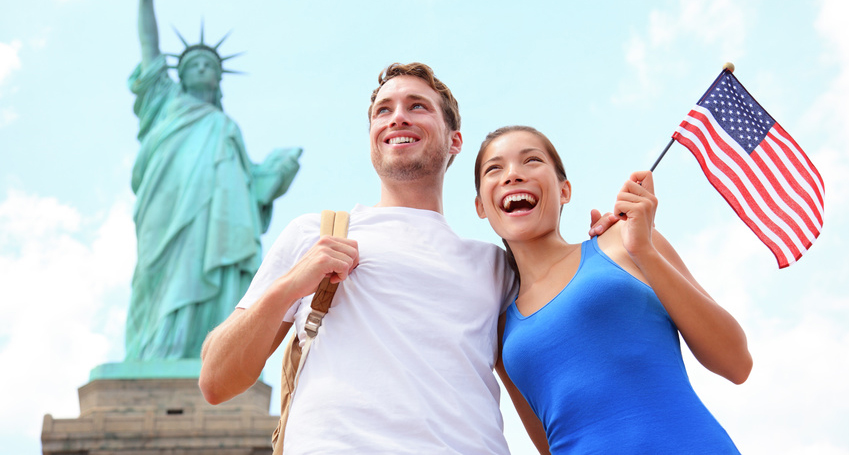 Safety
Unfortunately, while the United States is one of the most industrialized nations in the world, it has a fairly high rate of crime. However, a majority of the crime is perpetrated in inner city neighborhoods and tend to be drug or gang related. If visitors stay out of these areas, they should be fine. Either way, visitors should always remain alert regarding their surroundings.
Many of the high traffic cities, such as New York City, Washington D.C., and Los Angeles, have a large percentage of homeless people that like to sit or stand on the sidewalk and ask for money. While a majority do not take part in aggressive panhandling, visitors who are harassed should just say "No" in a stern fashion and walk away.
Tips for Dining Out
Tipping. In restaurants throughout the United States, tipping is not necessarily required, but it is greatly appreciated as servers do work for their tips. It is customary to tip anywhere between ten percent and 18 percent based off of the tip. When larger groups come to the restaurant, often eight or more people, the tip will be included in the final bill, and is often between 15 percent and 20 percent. Even in buffet-style restaurants, it is customary to leave a tip for the server who is clearing tables and bringing drinks.
Reservations. In nicer fine dining establishments, it is best to make a reservation or risk waiting for a table for a long period of time. Smaller local and chain restaurants do not always do reservations, but it is always good to find out. Many Americans like to go out to eat for dinner, so lessening the time one waits for a table by making a reservation is always a benefit.
Couvert. Unlike a number of European countries, there is no couvert – charge for bread – in the United States. The bread served at dinner is free of charge. Often times, the server will refill it upon request without any additional charges to the bill.
Variety of Eating Options. The United States is known for offering a plethora of culinary options. In New York, for example, visitors can find restaurants from just about every country around the globe. There is also a large number of chain restaurants, fast food options, and buffets.
Portions. The portions served in American restaurants tend to be much larger than what men and women from other countries would normally expect. Always ask about the portion size to ensure not too much food is ordered.
Smoking. The smoking policy regarding restaurants varies from state to state. A majority of states have, in the last ten or 12 years, banned smoking inside the restaurant. However, restaurants that offer outside eating during the warmer months may still have an area designated for smokers. It is always best to ask when sitting outside at a restaurant if smoking is allowed.
Alcohol. Many restaurants serve beer and wine but not all of them serve liquor. Always ask the server what alcoholic beverages are available. If there is a bar inside the restaurant, it is a good assumption that hard liquor is available.
Electricity Outlets
The United States uses 110 volts, 60 Hz electricity throughout the country. The country has its own special standard plug design, including two-prong as well as three-prong (grounded) plugs. However, if the plug is only two-pronged, there are plug adapters available in just about any grocery, home improvement, retail, and travel store.
For those visiting the United States from countries in Europe, Asia, and anywhere else that uses 220 volt, 50Hz electrical appliances (including laptops, phone chargers, or even a blow dryer), they will need to purchase a voltage adapter, not a plug adapter. Without the proper voltage adapter, the lower voltage in the United States will cause damage or even destroy electrical appliances. Voltage adapters can easily be purchased in airports, specialty travel shops, retail stores, and even some home improvement stores.
Currency
The official currency of the United States is the dollar (USD – $). It is divided into one-hundred cents. Foreign currency is rarely, if ever accepted in any store or restaurant. The only exception is that sometimes the Canadian Dollar is accepted in stores that are within one-hundred miles of the shared border. Due to the recent stabilization of the Mexican Peso, American border towns with Mexico, such as El Paso, Texas, will accept the Peso, but it is not always guaranteed.
Currency exchange offices exist in all major airports and in downtown areas of major cities and by airports. Banks will also exchange currency. ATMs do accept foreign credit cards and bank cards as long as they have a credit card logo on it, such as Visa or MasterCard. The ATM will provide the money in dollars.
Modes of Transportation
Due to the diverse geography in the United States, there are a number of different options when it comes to modes of transportation. Keep in mind that each state and cities within the state also offer their own various forms of public transportation options for easy access to major tourist destinations in that location.
Cars. Driving around the United States in a car provides individuals with the most flexibility when touring the country. There are a number of car rental companies throughout the country. While the rental prices can be quite steep, it is a beneficial financial endeavor as it provides the easiest opportunity to visit all the popular locations in the country. By having a rental car, individuals are able to travel at their own leisure and not be beholden to public transportation schedules and daily flight schedules. Many people think that driving long distances in the United States is the "Great American Road Trip" and it has become quite popular to drive from one coast to another, stopping at popular attractions.